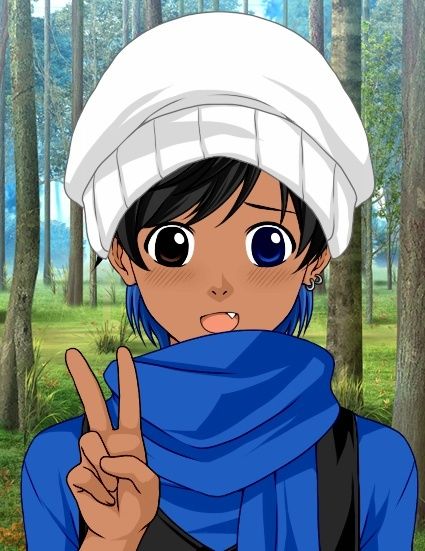 Basic info
Name: Azure Phoenix
Age: 17
Birthday: 7/26/1998
Gender: Male
Race: Human
Height: 5'6
Weight: 120
Face Claim:from the Rimaru Game site
Stats
STR:3
DEF:2
RES:2
SPT:5
Aura 150|150 HP
Personality
Major: Dust
Likes:
-Drawing
-killing Grimm
-Dust
-Cats
Dislikes:
 -Grimm
 -Being in the dark
 -Dogs
Fears:
-Losing loved ones
-Being in the dark  
Overall Personality: Azure is a funny yet clumsy boy that seems to make people happy even if they are mad at him. Azure as the tendency to get lost a lot due to his lack direction and just overall forgetfulness which make's everyone a bit angry with him especially people older than him. Azure still has the same mindset before his grandfather's death so he tries not to deal with things that remind him of those times. He always tries not to show people his serious side due to the fact that he's mostly knew for being the happy go lucky kid that is always willing to help everyone no matter the problem. Azure tends to keep important details from people cause he believes that somethings just shouldn't be said.
Abilities
Aura type: Spirit
Aura Color: Sky Blue
Semblance: Glyph- Adds Utility that allows Azure to boost himself making it harder for his foe's to take him down during battle,Azure's Glyph can be expanded or shrank to accompany the number of foes that are on the field during the time.
Item 1: Dust Skates/Ankle Guard/Dust -Teir one wind/A pair of Skates of Blue and Black roller Skates with a Dust spinners on the ankle also have a dust dial attracted to them on the ankle guards of both Skates which are mostly meant for close to mid range combat.
Item 2: Dust: Tier one wind
[History]
Azure was born in a small town in Vale where his Grandfather raised him after his mother died giving birth to him. Azure's grandfather was a retired Huntsmen so whenever he Azure was asked about his days as a Huntsmen he tell him a story that would put him right to sleep. Azure told his grandfather that he would become an even better Huntsmen then his grandfather was but every time he talked about it his grandfather would dismiss it as just another one of his jokes but then after seeing Azure practicing how to use Dust his grandfather took it as him being serious and began to teach him how to use Dust. A few years later Azure began to show much growth in his Dust control but one day his grandfather collapsed during their training sessions. It would only be revealed later on that Azure's grandfather had come down with an extremely rare sickness that left him unable to take care of Azure so he took a job as a delivery boy so he could get his grandfather to proper medicine. A few days later while Azure was on his way back home from work he was attacked by a Beowulf, luckily his grandfather was to move him out the way before it could finish him. Azure wasn't unharmed by the Beowulf's attack its first blow left him with a scar on his back. When came to he saw his grandfather struggling to breathe and to stand so he rushed over to get him back inside the house but by with his wound it was hard to carry someone that weighed more than you. Azure's grandfather last words were for him to keep moving forward no matter what happens in his life. On that Azure had lost the only person that cared for him and the worst part of it all was he died that night in Azure's arms and so after a couple of days Azure took his grandfather's Dust gloves to always have him with him along with his Roller skates to Craftsmen so he could turn them into dust weapons. After all that Azure left his hometown  in order to pursue his dream of becoming a Huntsmen at whatever school would take him but each school that e went to wouldn't take him due to their lack space available and his lack of real field combat also his general unwillingness to follow their rules when it can to fighting and telling the truth about himself. After getting kicked out by nearly every school he went to. One day as he passed through Bellmuse Central he saw a Huntsmen and Huntress fighting off some Grimm and he was just stuck in awe as he watched them take them down with easy, Azure wanted to run up to them to ask where they went to school but on of the townspeople told him that he should go to the Syne Academy if he wants to become a Huntsmen but before they could tell him where it was he Skated off in the opposite direction of the school.
[/RP Sample]
Azure made his way through a ghost as he was on his way to Syne Academy well he hoped that he was going the right way at less "Hello is there anyone that can help me if it's not too much trouble that is?" he shouted standing in the middle of the town but no one answered him well nothing human that is, a group of Ursa's charge at him from behind (Why does it sound like something charging at me?) he thinks to himself as he turns back to see the Ursa's almost on top of him but he quickly Glyph to jump over them allowing him to activate Heavenly Wing and use what his grandfather taught him about Dust. Azure changes the Dust dial to Fire "Okay guys hope you can take a raging inferno."  Azure asks them as skates toward the Ursa's, he jumps and does a split kick sending a fireball at one of the Ursa's setting it ablaze and then Skates around the rest and starts to Freeze them with his until one of them smacks him back "OWWW that hurt! Time to finish this up." Azure gets up and combines his Glyphs for speed and defense in a ring around the rest of the Ursa's. So as he goes around them he throws some Ice and Earth dust into the air and creates a mixture of Ice and earth spears that he drops onto them implying all of them from the head "All done now what back to getting to school." Azure says skating way as if he didn't just finish a fight.


Last edited by Azure Phoenix on Thu Apr 21, 2016 2:08 pm; edited 8 times in total